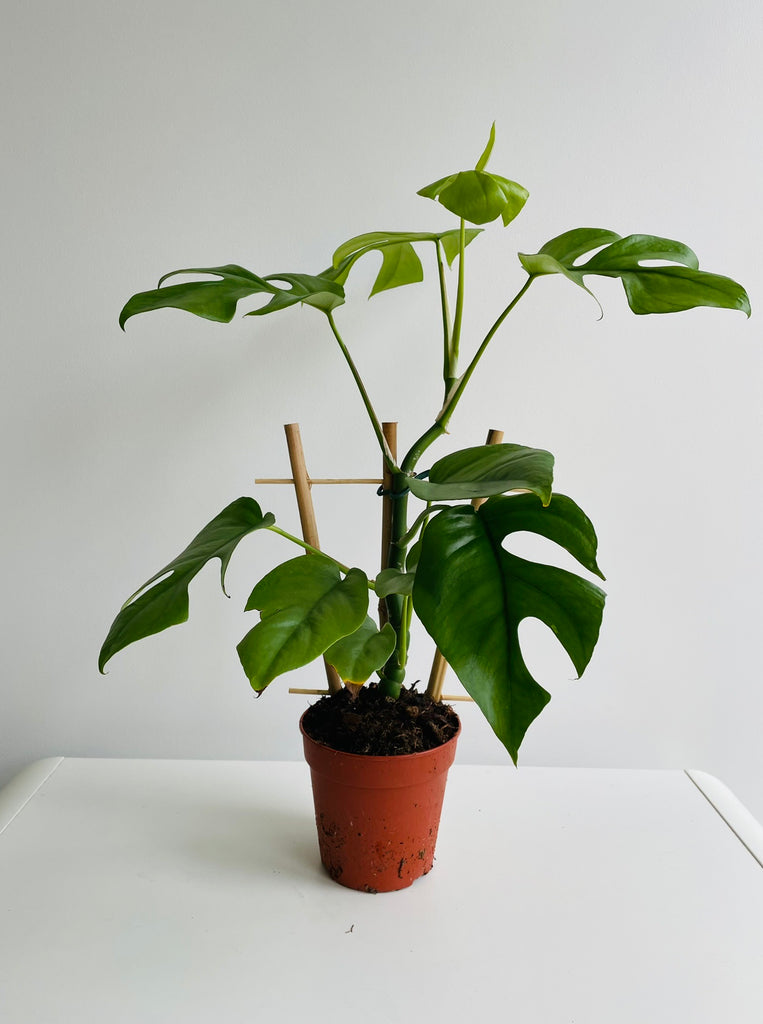 $14.00
$17.00
Rhaphidophora Tetrasperma Espalier
-DESCRIPTION-
The gorgeous Rhaphidophora Tetrasperma is a vine plant native to Southern Thailand and Malaysia. Their lush green leaves develop fenestrations as they mature. Stunning leaf shapes, in our humble opinion. 
- CARE GUIDE -
Light: Rhaphidophora Tetrasperma's love bright filtered, indirect sunlight. This will encourage beautiful leaf development. Too much direct sun may burn her leaves. 
 Water: You should water your plant when the first couple of inches of soil are dry. Poke your finger in the soil to check its dryness. Water through and let it drain. Do not let soil stay water logged as this may cause root rot.
- GROW UP TO -
The plant you will receive will be close to the one in the picture. As living creatures, like us, they all grow differently, are individuals and slightly different. Which is excellent! 
If you choose pot size 95mm the plant will be anywhere between 10-20cm plus centimetres in height. 
If you choose pot size 120mm the plant will be anywhere between 15-30cm plus centimetres in height. 
In your home, in the right conditions, they can grow 1.5mtrs! Woah!
Plants come in nursery growing pots. Decorative pots, plant is photographed in is not included in price. Shop pots here.
- IMPORTANT DELIVERY INFORMATION -
* We can only deliver our indoor plants to VIC, NSW and QLD. 
* For addresses within 25km of Melbourne CBD areas your indoor plants will be delivered by couriers. PLEASE SELECT Local delivery option, which is $15.
* For all other areas (Regional VIC, NSW, QLD) we will ship by express post, we will choose the fastest method. Please select express post option.
* If your order includes other items, for example, one of our amazing bags, we will send them out to you separately, at no extra charge. 
 * Once things open again we will offer a click and collect service.  
* If ordered by 6pm you can expect your order to be despatched either the next day or the following day. If ordered on Friday, despatch will be the next Monday.
* If you are ordering this as a gift, please leave a note, and we will write your special message to the lucky recipient :). Yay.
* If you have a specific day you would like delivery then please write that down in the same section as above.
That's it! Enjoy greener living. If you need plant assistance please contact us. 
And don't forget, we are hoping to grow a forest in Victoria, yes, not just trees, well 100,000 trees, a little dream of mine! We are up to 1500 so far.  
"For every order that includes a plant, we will plant a tree out there in the world (but really Victoria somewhere). We will invite you to join us to do this! and celebrate! And one day in the far distant future, hopefully in our lifetime, we can visit a forest, we grew together" 🌳